Electrical & Manufacturing Contractors & Supplies in Michigan
Installations, Repair Services, Consumables, & More
SBP was started in 2007 by Ken Mikols as a two-man shop. Since then, the business has grown in size and scope to serve clients across Michigan for every piece of equipment in their shops. We're proud to cater to auto body and collision repair shops as well as woodworking shops and industrial and commercial manufacturers throughout Southeast Michigan and beyond.
No matter the make or model, we can service your existing equipment and combat mechanical failure to get it up and running so that you can meet your quotas and deadlines. And when you need new equipment, we stock the very best brands at the very best prices. In fact, all of our main spray booth lines and air compressors are made here in the USA. Whether you need filters delivered on a regular cadence or a customized service agreement, SBP is your source for the best support.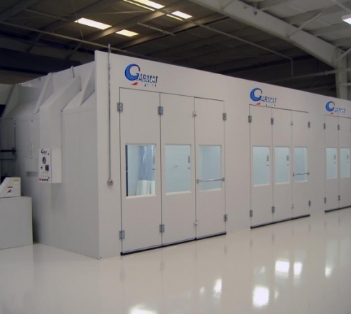 Request Your Service or Equipment Today
---
Get in touch with our team to discuss the products and services that will keep your business at peak productivity.
(313) 766-4400
Paint Protects the World
---
Practically everything you see in the world is painted—from buildings to benches to vehicles—for both aesthetic and protective reasons. SBP is here to help you protect parts, equipment, employees, end products, and customers with our full range of equipment and services. From filtration to ventilation to measurement data, your business can reach new levels of productivity with our support. Contact us today to explore your options and take a step towards accomplishing your business goals.